Gain peace of mind with a team of professionals who are as dedicated to your family's comfort as you are. Our Customer Care Dealers ensure that your experience is comfortable—from start to finish.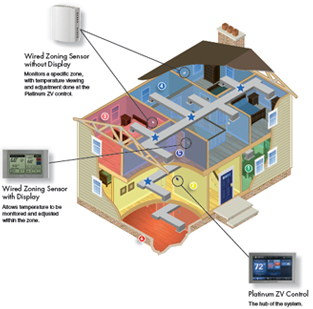 PRECISE CONTROL. COMFORTABLE AIR THROUGHOUT
If your home is like most, temperatures often fluctuate from one room to the next. Whether it's because of sunlight, room activity or any of the other factors that can affect temperature, a new American Standard zoning system can put control of your comfort right where it belongs - at your fingertips.
With the Acculink™ Zoning system, you'll be able to set a schedule on your thermostat based on your home's unique temperature patterns, and control it from wherever life takes you with Nexia™ Home-Intelligence. Every Acculink™ Control comes with remote "climate access", allowing you to monitor and control your zoning system through any web-enabled device.
Your zoning system is controlled by the most sophisticated control ever produced by American Standard Heating & Air Conditioning - one that will integrate your life and your home comfort system like never before.

Wired Zoning Sensor with Display

As part of your zoning system, the Wired Zoning Sensor with Display acts as both a sensor and a thermostat by allowing you to monitor and adjust the temperature in one specific zone. It can also share data with, and receive commands from, the Platinum ZV Control, ensuring consistent, even comfort in each zone of your home.

Wired Zone Sensor without Display

The Wired Zoning Sensor without Display monitors temperature within a specific zone, while only allowing temperature adjustments at the Platinum ZV Control—perfect for a child's room or hallway. When the sensor indicates the need, heated or cooled air is directed to the necessary zone for unprecedented comfort.

Motorized Modulating Dampers

Motorized modulating dampers can be installed within your new or existing ductwork to systematically redirect airflow to where it's needed.

As the sun rises and sets, our motorized modulating dampers have the ability to open in partial increments so you can fine-tune zoning areas for maximum comfort.
Synchronized comfort
Connect your Acculink™ Platinum ZV to the smart, hardworking components of an American Standard matched system for unparalleled performance, efficiency and comfort. Match the zoning equipment to a variable-speed indoor unit and multi-stage outdoor unit and you'll see for yourself. Every component is designed to work in harmony with the others—optimizing your comfort and energy use and providing enhanced humidity control.
Learn more about the Acculink Zoning System.
view product details →